cbs.com
The Linz Family ~ Cincinnati, Ohio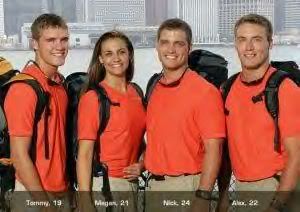 Team of Four Siblings: Tommy, 19, Megan, 21, Nick, 24
and Alex, 22.
The Linz Family is from Cincinnati, Ohio. This close-knit team is comprised of three brothers and one feisty sister who are so deeply rooted in Cincinnati that they have over 50 first cousins living in or near the Cincinnati area. The Linz's parents have been married for more than 28 years.

Nick is the oldest on the team at 24 and works in sales in Buffalo, New York. He describes himself as hardworking and friendly.

Alex, 22, recently graduated from the University of Cincinnati and works as an emergency room technician. He says he is optimistic and proud.

Tommy, 19, is currently enrolled at Miami University of Ohio. Tommy, who played on the Miami University lacrosse team, is willing and outgoing.

Megan, 21, is the only female on the team. She also attends Miami University of Ohio and is studying Strategic Communications. Megan enjoys cheerleading and field hockey. Although she's outnumbered by the boys, she and her brothers are very close.

The Linz siblings are well-traveled, athletic, very competitive and ready to embark on a race around the world on "The Amazing Race."