'Hurt Locker' Tops 2010 BAFTA Awards
by Ali Jaafar
Kathryn Bigelow earned Best Director honors for
her film, 'The Hurt Locker' at 2010 BAFTA Awards.
Kathryn Bigelow's "The Hurt Locker" stormed the BAFTAs on Sunday, February 21, winning six awards, including Best Film as well as Best Director. Bigelow is the first woman to be awarded the BAFTA Director nod. However, the night was young and proved to be just the beginning of a triumph for her movie.

"The Hurt Locker" portrays elite soldiers tasked with defusing bombs in the heat of combat. Collecting Bigelow's Best Film Award from Dustin Hoffman, the estatic director enthusiastically announced it was "beyond our wildest imagination." Bigelow added, "This is so unbelievable, we're just so deeply honored and humbled."

In a night of surprises that saw James Cameron's "Avatar" shut out of the main categories (it drew just two awards, both in technical categories), Colin Firth took the Best Actor nod for Tom Ford's "A Single Man" while fellow Brit thespian Carey Mulligan took home Best Actress kudos for Lone Scherfig's "An Education." Pixar-Disney's "Up" won for Best Animated Film and Music, Jacques Audiard's "Un Prophete" for Best Foreign Film.
Fellow Brits Actress Kate Winslet, (left), congratulates Actor
Colin Firth, (right), on winning his Best Actor Award for the film,
'A Single Man' at 2010 BAFTA Awards
United Kingdom distributer Optimum Releasing was the big winner of the night, representing both "The Hurt Locker" and "Un Prophete." The three-hour ceremony at London's Royal Opera House saw a plethora of celebs and film executives walk the red carpet, including Disney Studios executive Rich Ross, "Inglourious Basterds" helmer Quentin Tarantino and thespian elite Kate Winslet.

Expectations of a close race between former husband and wife directors, James Cameron and Kathryn Bigelow, were overturned as Bigelow's Iraq drama, "The Hurt Locker," scored a clutch of early wins that set the night up for the big wins in the top two categories. It also set the tone for the movie to be one of the front runners for the upcoming Academy Awards since expanding the category from five films to ten films.

Besides Best Picture and Best Director, "The Hurt Locker" scored BAFTAs for Best Original Screenplay for Mark Boal, Best Cinematography honor for Barry Ackroyd, Best Editing trophy for Bob Murawski and Chris Innis as well as the Best Sound award for Ray Beckett and Paul N.J. Ottosson.
BAFTA President Prince William
Firth scored laughs from the glitzy audience, which included new BAFTA President Prince William, by revealing that he'd been seconds away from emailing Designer-turned-Director Ford to reject the lead role in "A Single Man" before being interrupted by a refrigerator repairman. Best British Film kudos went to Andrea Arnold's "Fish Tank," and the Best Brit Directing nod went to Duncan Jones for "Moon."

Following their win on Saturday, February 20 at the Writers Guild of America Awards in the same category, Jason Reitman and Sheldon Turner picked up the Adapted Screenplay award for "Up in the Air." Best Supporting Actor and Actress kudos went to the usual suspects: Christoph Waltz for "Inglourious Basterds" and Mo'Nique for "Precious."

Legendary Actress Vanessa Redgrave received the Lifetime BAFTA Fellowship Award for Outstanding Contribution to Film, making an emotional speech that recalled her family's long history on stage and screen. "You've done me in," said a visibly emotional Redgrave, receiving the accolade in the same year she lost her oldest daughter, Actress Natasha Richardson, following a freak skiing accident.
The Orange British Academy Film Awards
63rd Annual BAFTA Award Winners
(winners will appear highlighted in red)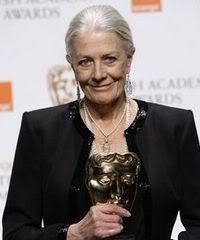 Vanessa Redgrave received The Academy Lifetime
Fellowship Award
The Academy Fellowship
Vanessa Redgrave
Outstanding Film
"The Hurt Locker"
Kathryn Bigelow, Mark Boal, Nicolas Chartier and Greg Shapiro
The Michael Balcon Award
Outstanding British Contribution to Cinema
Joe Dunton
The Alexander Korda Award
Outstanding British Film of the Year
"Fish Tank"
Kees Kasander, Nick Laws and Andrea Arnold
The Carl Foreman Award
Special Achievement by a British Director,
Writer or Producer in their First Feature Film
Duncan Jones


Director


"Moon"
The David Lean Award
Achievement in Direction
Kathryn Bigelow
"The Hurt Locker"
The Orange Rising Star Award
(voted for by the public)
Kristen Stewart
Outstanding Original Screenplay
"The Hurt Locker"
Mark Boal
Outstanding Adapted Screenplay
"Up In The Air"
Jason Reitman and Sheldon Turner
Outstanding Film Not in the English Language
"A Prophet"
Pascal Caucheteux, Marco Cherqui, Alix Raynaud and Jacques Audiard
Outstanding Animated Feature Film
"Up"
Pete Docter
Outstanding Actor in a Leading Role
Colin Firth
"A Single Man"
Outstanding Actress in a Leading Role
Carey Mulligan
"An Education"
Outstanding Actor in a Supporting Role
Christoph Waltz
"Inglourious Basterds"
Outstanding Actress in a Supporting Role
Mo'Nique
"Precious: Based on the Novel Push by Sapphire"
The Anthony Asquith Award
Achievement in Film Music
"Up"
Michael Giacchino
Achievement in Cinematography
"The Hurt Locker"
Barry Ackroyd
Achievement in Editing
"The Hurt Locker"
Bob Murawski and Chris Innis
Achievement in Production Design
"Avatar"
Rick Carter, Robert Stromberg and Kim Sinclair
Achievement in Costume Design
"The Young Victoria"
Sandy Powell
Achievement in Sound
"The Hurt Locker"
Ray Beckett and Paul N. J. Ottosson
Achievement in Special Visual Effects
"Avatar"
Joe Letteri, Stephen Rosenbaum, Richard Baneham and Andrew R. Jones
Achievement in Make Up and Hair
"The Young Victoria"
Jenny Shircore
Outstanding Short Animation Film
"Mother Of Many"
Sally Arthur and Emma Lazenby
Outstanding Short Film
"I Do Air"
James Bolton and Martina Amati